Training
Active Shooter Response Training, Exercises & Planning
CBRNE Preparedness
Pandemic Preparedness
Executive Crisis Management
Enterprise Resilience Training
Corporate Operational Risk
Reduction and Liability
ActiveShooterTest.com
This website was developed to present active shooter response material as economically and concisely as possible in a relaxed setting and at the speed of the user. The material is not a watered down version, but relevant, timely and actionable information that provides insight into an active shooter emergency.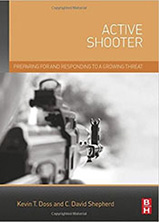 Active Shooter : Preparing for and Responding to a Growing Threat
RRG (C) 2017 "A Veteran-owned Small Business"